Block I,I is on a very interesting spot: on the intersection of the Decumanus Maximus and Via dei Molini. Unfortunately very few conclusions can de drawn from the ruins and the finds. The block was excavated in 1912. Most of the central north-south wall is made of large tufa blocks: it is part of the old Castrum-wall, that surprisingly was not torn down. The two rooms in the north-west corner have been called I,I,1, the large hall to the south I,I,2, and the rooms to the south of the hall I,I,3. The east half has been called Caseggiato del Portico delle Mura del Castrum (I,I,4).
I,I,1 consist of two shops and a staircase that was entered from the west, from Via dei Lari. It was built during the reign of Antoninus Pius (opus latericium), but work may have begun earlier. I,I,2 and 3 were built during the reign of Hadrian (opus latericium). I,I,2 is a large hall with three entrances from Via dei Lari. I,I,3 consist of four shops, two toward the Decumanus and two toward Via dei Lari. Another external staircase is found here.
I,I,4 is Hadrianic (opus latericium and mixtum). Two shops face the Decumanus, to the north are shops behind a portico, facing Via dei Molini. Later many basins and a drain were installed. In the north-east, at the intersection of Via di Diana and Via dei Molini, was a square fountain, that has now disappeared. In the third room from the north was a well. Each of the two backrooms seems to have contained a basin. There was a further basin - consisting of two compartments - two rooms to the south, set against the south wall. The south-western shop was divided in two rooms. The partition wall was built of tufa stones and some bricks. In the east side of the wall are three rectangular wall-niches. This may have become a cult-room.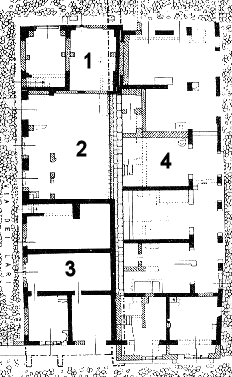 Plan of the block. After SO I.