The mithraeum of Fructosus
The mithraeum in the substructure of the podium was reached through a door in the north-east part of the porticus, then through a corridor in front of the podium, and finally by descending a few steps. Preparations had been made for a low cross vault to support the podium, but it was never finished. Instead a higher cross vault was built to cover the mithraeum, and the springing of the planned low vault was filled with opus vittatum and stucco. The floor of the room was lowered.
In the back wall a semicircular wall-niche was hacked out, 40 centimeters deep. On either side of the niche was a small marble column. On the bottom rested a marble slab with a pivot hole. The rough concrete of the back was left unfinished, intentionally, so that it recalled the cave in which Mithras was born. The niche was painted blue and will have contained a statue of Mithras.
In the west wall, next to the entrance, is a recess for a relief or an inscription. In the north wall is a slit window. Podiums were set against the long sides of the room. They accomodated c. 18 men. The walls of the room were all painted white. Traces of red and blue were seen by the excavators. Two marble supports may have belonged to a table in front of the niche. Furthermore two bases were found, one of marble, the other of travertine. Most likely they supported statues of Cautes and Cautopates, holding a raised and a lowered torch (part of the statue of Cautes has been preserved).
Fragments were found of a marble cornice, which rested on small columns or a similar support. The original location remains uncertain. It carries the inscription (one line):
[---]rius Fructosus patron(us) corp(oris) s[tuppatorum---te]mpl(um) et spel(aeum) M(i)t(hrae) a solo sua pec(unia) feci(t)
"?rius Fructosus, patron of the guild of the tow-makers, built the temple and cave of Mithras, alone and on his own expense"
A list of members of the corpus st[---], from the third century AD, mentions a Fructosus senior, and a Fructosus as patron. The shrine was destroyed thoroughly and set on fire by Christians.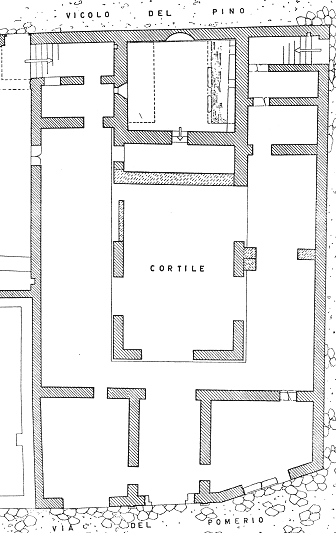 Plan of the temple and mithraeum.
North is to the left. From Becatti 1954, fig. 4.