Building I,XII,9 is found to the south-west of the palaestra of the Terme del Foro (I,XII,6). It is entered from the Cardo. Originally the westernmost room of the building to the east (I,XII,8) also belonged to it. The building was probably erected during the reign of Antoninus Pius (138-161 AD).
In the south part of the building is a staircase, accessible from the street. The room underneath it has a window in the east wall. To the north are three rooms. The central one is a corridor, the entrance of which is accentuated by brick pilasters. It continued to the present building I,XII,8. The northernmost room received light through many windows: three in the north wall and two in the east wall (in the north wall was also a doorway). Apparently this was not a straightforward shop. A shop to the south of the corridor had a door in the east wall. All doors and windows in the east wall of this building were later blocked.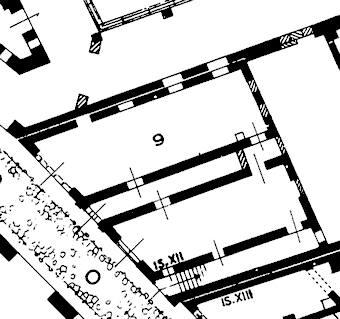 Plan of the Edificio. After SO I.