Click here to open a detailed plan of the building in a new window (Pietrogrande 1976, fig. 1).
This tiny fullery was installed in a Hadrianic building (opus mixtum and latericium), with three shops along the Cardo. The masonry, the height of the floor and coins found below the floor indicate that this took place in the third century, or even later. It is a very small workshop, composed of two rooms only: the southernmost shop and the room behind.
In the entrance from the street to the front room is a shop-threshold. In the north-east corner was a basin, later replaced by two small brick walls, perhaps supporting a work-bench. In the same corner two terracotta pipes disappear below the floor, in the direction of the street. In the north-west corner a dolium defossum was found, in which liquids were stored.
In the south-east corner of the back room is a basin, to which water was piped from the south, through a lead pipe. In the north-east corner are two podia with a raised border to stop liquids. Along the north and east wall were four terracotta pressing-bowls, with thin walls serving as hand-rests on either side. Three have been preserved. A further basin was in the north-east corner.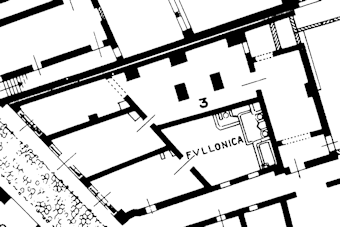 Plan of the Fullonica. After SO I.