This monumental nymphaeum was built at the major intersection of five streets, at the spot where the Decumanus turns towards the south-west (Bivio del Castrum). It is flanked by Via della Foce and Via degli Horrea Epagathiana. The masonry (opus latericium) has been dated to c. 340-370 AD.
In the back wall (c. 25 metres long) are three large wall-niches, high up in the wall. The central one is rectangular, the other two are semicircular. In the walls are holes in which marble revetment was fastened. A basin was set against the back wall. In front is a trapezoidal area, the north part of which seems to have had a roof supported by five brick piers. On the floor are a few remains of opus spicatum.
Nearby a marble statue of a putto on a dolphin was found (inv. nr. 497), very similar to a statue found in the Macellum(IV,V,2), across the street (inv. nr. 498). Water emerged from the beak of the dolphin.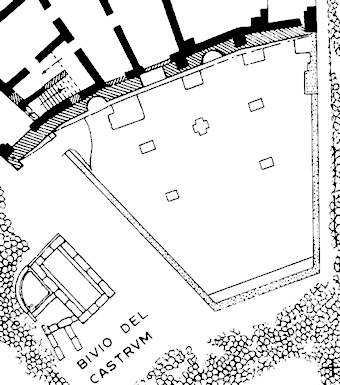 Plan of the nymphaeum.
After SO I.