This is a Hadrianic group of shops. In the north-west part a large oven was installed. It has been suggested that tiles were produced here, some of which were found nearby. However, it seems strange that clay was taken to the centre of Ostia to be baked as tiles.
The oven is very reminiscent of the ovens in the Ostian bakeries. It is larger than the largest bakers' oven, in the Caseggiato dei Molini (I,III,1). The inside diameter is 5.80 from side to side, and 5.40 from back to front (Caseggiato dei Molini: 4.60 x 4.90). In the tufa blocks are horizontal grooves, as in the oven in the bakery. It has been suggested that a rotating grate was used, on top of which the bread was placed.
The absence of millstones and kneading machines suggests, that the bread was made at home. The grain may have been sold by the grain-measurers, who were active in the buildings to the west of the oven, in the Aula and Tempio dei Mensores (I,XIX,1-3) and in the Horrea dei Mensores (I,XIX,4). Perhaps bread of a high quality was made by the slaves of the wealthiest Ostians, such as those living in the suburban villas along the coast. Communal ovens are still found in, for example, Morocco.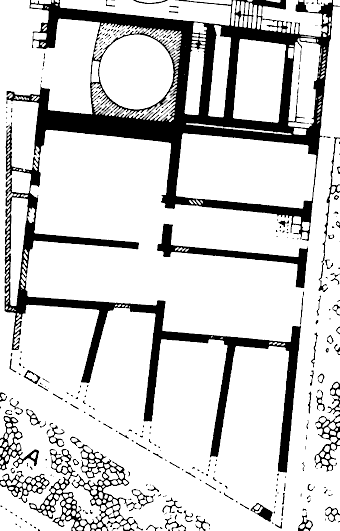 Plan of the building.
After SO I.