The Mithraeum of Lucretius Menander was installed in the early third century AD to the south-east of a Hadrianic building, named after the mithraeum. The rooms in this part of the building had been decorated with a black-and-white geometrical floor mosaic. On the walls were paintings of small landscapes etc., on white panels bordered by wide red bands. The paintings have been dated to the Antonine period.
The mithraeum was entered from the north, along a staircase which forced access from the side. Along the walls of the shrine are podia (h. 0.45), with niches in the centre of the vertical side. The western podium was reached along a few treads.
At the back of the shrine is a brick altar. The front is covered by a marble slab (0.84 x 0.47), with a hole in the shape of the moon, behind which must have been a lamp. Below the moon is the inscription:
DEO INVICTO MITHRAE
DIOCLES OB HONOREM
C. LVCRETI MENANDRI
PATRIS
D(ono) D(edit) D(edicavit)
The altar was dedicated by a slave called Diocles, in honour of C. Lucretius Menander, main priest of Mithras.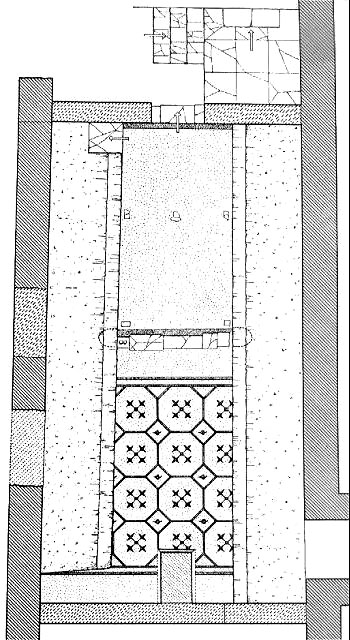 Plan of the mithraeum. SO II, fig. 3.