This is a row of shops behind a porticus, at least as old as the Trajanic period (opus mixtum). During the reign of Antoninus Pius the back walls, consisting of tufa blocks of the republican Castrum, were demolished and replaced by a new wall with four wall-niches, one per shop. The first and second one (a, b) are in the central part of the back wall, the third and fourth one (c, e) in the north part. The first three are identical, the fourth one, with an aedicula facade, is of a different kind, but its size and general appearance fit in well with the other three. The conscious use of red and yellow bricks suggests, that the niches were not meant to be plastered. A further wall-niche (d) was installed in the filling of a doorway in the back wall of the third shop from the north, a filling perhaps to be dated to the end of the second century.
Niche c is not in the centre of the wall because of the doorway. The eccentric position of niche e can also be explained. The back walls of the first three shops (counting from the north) and the north end of the back wall of the fourth shop are also an outer wall of the Antonine Caseggiato I,VIII,8. All niches are in this wall. Most of the back wall of the fourth shop however forms part of an outer wall of the Hadrianic Caseggiato I,VIII,7, which is also the back wall of two further shops of building 5. In this wall no niches are found. Apparently then no permission was given to damage the outer wall of building 7 by hacking out niches.
We may assume that there was some tie between the shops: that the shop-keepers were slaves of the same master, or that they sold the same goods. This last link is suggested by doorways in the back walls of the second and third shop, leading to the adjacent contemporaneous building 8. This consists of two large rooms, both accessible from the street through wide passages, one with a large basin. Quite possibly this was a workshop, where the goods sold in the shops were manufactured.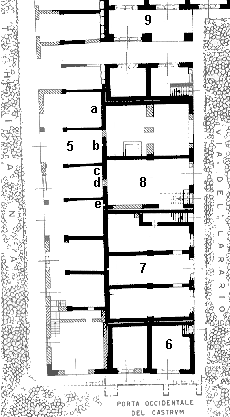 Plan of the building. After SO I.