To the south-west and south-east of the Theatre are two semicircular fountain-houses or nymphaea, facing the Decumanus Maximus. They were probably built during the reign of Domitian (81-96 AD) and rebuilt at the end of the second or in the early third century AD. Later marble columns were added to the eastern (and western?) fountain.
Unfortunately not much has been preserved of the fountains. The masonry behind the hemicycles probably carried a niche from which water reached the basin in front, through lead pipes. Two marble gargoyles in the form of ship's stems may have been found here. In each basin are two bases, probably for statues.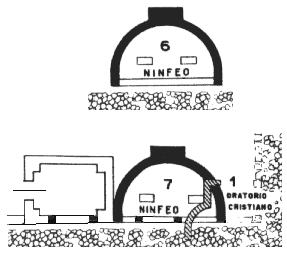 Plan of the fountains. After SO I.
Top: western fountain.
Bottom: eastern fountain.