Piecing together a monument from fragments is one of the most rewarding archaeological activities. Zevi and Pensabene succeeded in doing so in 1971, when they presented the reconstruction of an honorary arch to the south of the theatre (II,VII,2) and to the north of the Portico degli Archi Trionfali (V,XI,7), named after the arch.
The four corner piers of the arch flank the central entrance to the theatre (opus vittatum and opus latericium). Therefore the arch was also some sort of covered vestibule of the theatre. The piers are fairly small (the size ranges from 0.92 x 1.35 to 1.09 x 1.60 m.). The north-south distance between the piers (i.e. the width of the Decumanus) is c. 5.85 m. The west-east distance (along the theatre) is c. 13.65. Fragments have been found of the marble decoration: columns, architraves, friezes, and cornices.
In the area to the south of the theatre fragments were found of a huge marble inscription (c. 6.30 x 1.80 m.), belonging to the arch. It will have been fastened in the upper east side, so that it was seen by those who came from Rome and entered the city through the Porta Romana. The letters may have been coloured. The following text has been proposed:
MAGNO ET INVICTO AC SUPER OMNES FORTISSIMO
FELICISSIMOQVE
IMP CAES M AVRELLIO ANTONINO PIO FELICI AVG
PARTH MAX BRIT MAX GERM MAX PONT MAX TRIB POT XVIIII IMP III COS IIII PROCOS PP
It is a dedication to Caracalla from 216 AD, probably by the "senate and people" of Ostia. Note that Caracalla, together with his father, was responsible for the rebuilding of the theatre. Nothing has been preserved of the word magno, but it is a likely addition. At the end of his reign Caracalla identified himself with Alexander the Great ("Magnus"). The year before, this identification had been expressed through paintings in the Sacello del Silvano (I,III,2). The phrase ac super omnes elevates the Emperor above all his predecessors.
The arch is mentioned in ancient literature in connection with the martyrdom of Cyriacus, which led to the building of the Oratorio cristiano (II,VII,1).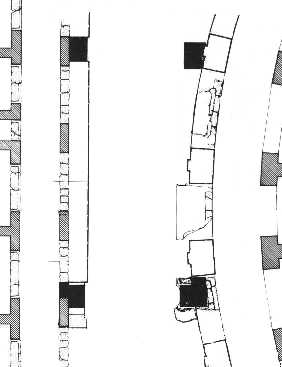 Plan of the arch. North is to the right.
After Zevi-Pensabene 1971, fig. 2.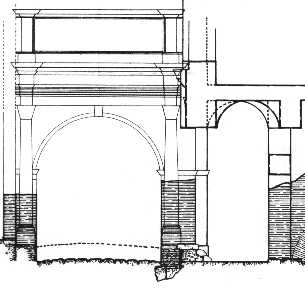 Reconstruction drawing of the arch.
From the east.
From Zevi-Pensabene 1971, fig. 3.