The House of Apuleius was built in the republican period, as is indicated by a few remains of opus quasi reticulatum. The house was rebuilt in the Antonine period, after 148 AD (opus mixtum; dated brickstamps were found). It was excavated in 1885-1886 by Lanciani.
The plan of the new house looks "Pompeian", and presumably reflects the plan of the older house. The entrance corridor 16 leads to atrium 21. In the centre is an impluvium with fountain, surrounded by eight columns. To the east are black-and-white mosaic floors with geometric designs. Divisions between the mosaics indicate that there were several rooms here, but the partition walls have disappeared. One of the mosaics (now lost) had a depiction of a victorious chariot and charioteer, with the text:
Behind the atrium is a tablinum or accentuated room. It is possible that here a mosaic with the head of Medusa and of Mars and Rea Silvia was found in 1783. The room to the west (25) was a latrine.
In the west part of the house representative rooms are found. These rooms had floors decorated with black-and-white mosaics and opus sectile. In one of the northern rooms (26) a satyr and maenad are depicted, together with dolphins, birds, masks and acanthus leaves. In the east part of room 27 is a mosaic with the head of Medusa. In the west part of the same room are two mosaics: a white mosaic in the south part, and a mosaic with geometric motifs in the north part. The latter mosaic was covered with another mosaic, also with geometric motifs, squares and shields. In the east part of room 28 is a mosaic of two Nereids riding sea-monsters, in the west part a mosaic of two men, possibly wrestlers. In the southern part of this room is fountain 29, on either side of which were columns, of which the bases have been preserved. From here a few steps lead to the Mitreo delle Sette Sfere (II,VIII,6), room B on the plan. Room 30 was a kitchen.
The house is to the east and north of the Four Small Temples (II,VIII,2), and seems to have been intimately related to the temples. Therefore the original house may have been owned by P. Lucilius Gamala, who was responsible for the construction of the four temples. Stamps on lead waterpipes indicate that the owner of the Antonine house was L. Apuleius Marcellus (the officinator or manufacturer of the pipes is also mentioned). According to Coarelli this was Apuleius of Madauros, the author of the famous novel "The Golden Ass" (or "Metamorphoses"), who would then have lived in Ostia c. 150 AD. He would also have been responsible for the building of the Mitreo delle Sette Sfere, and had taken over control of the four temples. Coarelli's arguments are discussed in connection with the temples and mithraeum.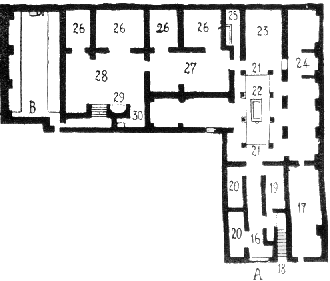 Plan of the house. From Paschetto 1912, fig. 88.