This so-called market consists of two long rows of rooms on either side of a courtyard, that was paved with herringbone brick (opus spicatum). The northwestern row has wide doorways, suggesting that these rooms were shops. One room has beamholes at the level of the pavement, probably related to a wooden floor below which free space was required (a solution found often in store buildings for grain). The southeastern row has narrow doorways. The building could be entered from Via della Foce and from the side street that was later occupied by the Basilica Cristiana. The entrance corridors are flanked by shops facing Via della Foce and the side street. There was no upper storey.
Tufa piers flanking the eastern entrance belong to the late republican period. Restorations took place during the reign of Trajan (opus mixtum).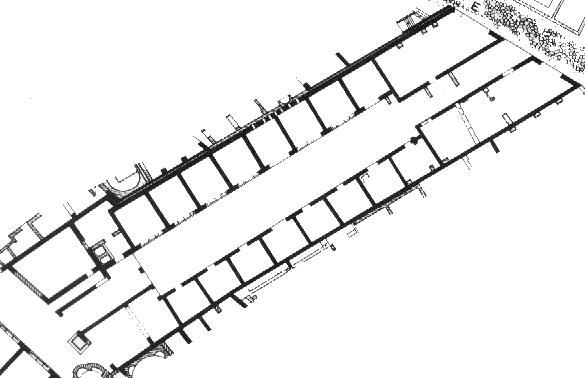 Plan of the building. After SO I.