This building is situated to the west of the Via Tecta degli Aurighi. This inner road is spanned by large arches. It could be closed off at both ends. It was also accessible from the corridor between the Caseggiato degli Aurighi (III,X,1) and the Terme dei Sette Sapienti (III,X,2). The building was erected during the reign of Antoninus Pius. Originally it was a double porticus, consisting of brick piers supporting cross-vaults. Around 200 AD many rooms were created with a commercial purpose, witness a small oven and three basins.
Towards the south is a large staircase. The room in the north-east corner was a bar, with a bar counter in the south-west corner that was set against paintings. Paintings from the Antonine or Severan period have been preserved in rooms 1-4.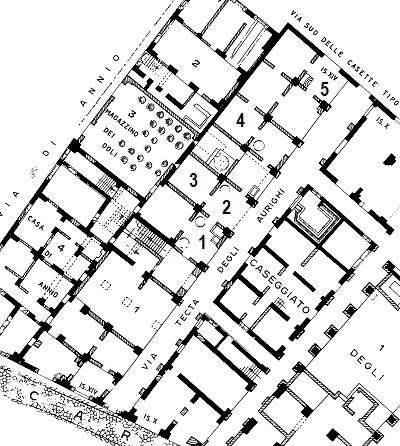 Plan of the building.
After SO I.