This building is situated to the west of the Via Tecta degli Aurighi. This inner road is spanned by large arches. It could be closed off at both ends. It was also accessible from the corridor between the Caseggiato degli Aurighi (III,X,1) and the Terme dei Sette Sapienti (III,X,2). The building to the west was erected during the reign of Antoninus Pius. It has received suprisingly little attention. It was originally a double porticus, consisting of long rows of brick piers supporting cross-vaults. Later many rooms were created through walls of a curious opus mixtum: bricks and highly irregular tufa stones. In the central part is a large staircase. The purpose of the rooms after the modifications is not clear. In its final phase the building must have had a commercial purpose, witness a small oven and three basins.
The room in the north-east corner was a bar (room 5), with a bar counter in the south-west corner. The counter was set against paintings: red and yellow bands and lines, one curved, on a white background. Many other rooms have remains of paintings, often scant. Extensive remains can be seen in room 4. A wide red band creates two horizontal zones on the south wall. The background is white. In the centre of the upper zone is a high, solid red rectangle. It is flanked by panels created by thin red lines. Each panel has a flying swan in the centre. Of the lower zone only the left part has been preserved. An aedicula with architraves was created here, with red, yellow and white paint. A similar scheme was used for the east wall. Here the right part of the lower zone (to the right of a doorway) was preserved. It has a rectangular panel with a thin, yellow band and red inner lines. In room 3 are remains on all walls. Again on a white background red and yellow bands and lines create panels. They contain little objects in the centre, difficult to identify. In room 2 black bands and lines were also seen. In one of the panels is a yellow bird on a branch. In room 1 was a red garland with flowers and green leaves.
At least one door in the secondary walls was blocked after the paintings were made. The paintings have been assigned to the Antonine period, but early or late in the period is debated. Eventually the paintings were covered with a layer of decorated whitewash, of which only minute traces could be identified.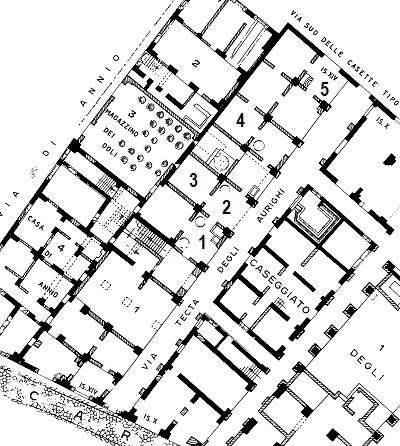 Plan of the building.
After SO I.