This is a single room (c. 10.00 x 10.00) with dolia defossa, buried jars for storing wine or olive-oil. The room was built in the Hadrianic period (opus mixtum), but there are many later modifications.
Two slit-windows in the south-east wall indicate, that the area originally did not have a roof. In the room are 21 dolia defossa, not dug into the ground, but in the ground because the floor level has been raised. The raised floor may well bear a relation to the blocking of a door in the south-west wall. Only the upper part of this door is now visible. Above the door a rectangular cult-niche was hacked out. Another, semicircular niche was hacked out in the south-east wall.
The Magazzino presumably belonged to a workshop on the ground floor of the adjacent Caseggiato di Annio (III,XIV,4). In the facade of the latter building is a relief with storage jars.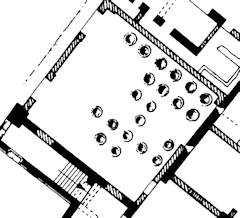 Plan of the building.
After SO I.