The House of the Serapeum (Hadrianic opus mixtum) was originally connected with the temple of Serapis to the north. In the building the members of a religious guild related to Serapis (cultores) may have met and dined.
From the Serapeum an antechamber (A; c. 9 x 5 metres) was reached through a doorway flanked by windows. At the south end of the antechamber is a passage with two brick piers and semicolumns, decorated with marble. This passage leads to a corridor (B), behind which is the main hall (C; c. 9 x 10 metres), with many doorways and windows. This hall had twice the height of the surrounding rooms. On the central part of the floor is a polychrome (Hadrianic) mosaic, consisting of 68 compartments, 14 of which have been preserved. In the compartments are birds, theatre-masks, plants, and vessels. Around the panels is a black-and-white geometric mosaic. From the pattern of the mosaic can be deduced, that the hall was used for banquets. To the west of the hall is a staircase.
In the late third or early fourth century the passage from the Serapeum was blocked. It was occupied by a number of niches and a semicircular basin. A few rooms were now added in front of the building, on the street to the east (Via del Serapide). One of these rooms contained the porch of a new entrance, of which column bases remain. Another room was heated. The building seems to have become a domus. The marble decoration belongs to this second period.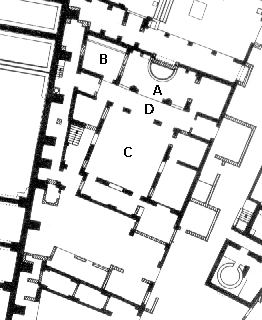 Plan of the house. After SO I.