This store building has been dated to the Trajanic period (opus reticulatum with quoining in small tufa blocks). Some later opus latericium and vittatum can be seen.
There is an ornamental brick entrance on the Cardo degli Aurighi. The doorway is 1.90 wide. From the threshold can be deduced, that the doors were shut from the inside. The entrance is framed by brick columns supporting a brick pediment. A staircase next to the entrance led to the first upper floor.
To the right of the main entrance is a small secondary door, leading to an understairs. In the jambs are travertine blocks used for barring the entrance. It is the same system that was employed in the Horrea Epagathiana. In one jamb was a plain hole, in the other a hole above which is a groove. Behind the latter hole is a small hole. A bar was lodged first in the plain hole and then dropped into the grooved one. There must have been a locking system at the end of the bar, whereby a bolt could be shot into the second smaller hole and secured, probably by a padlock. Apparently this was a store house for more costly goods.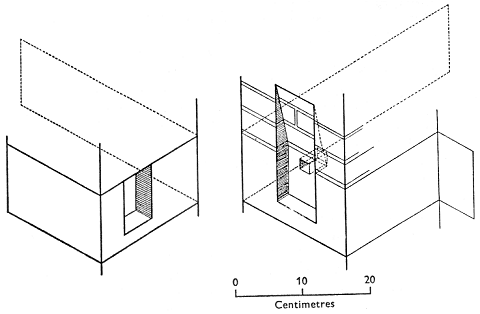 Locking devices. Rickman 1971, fig. 14.
Two narrow corridors can be accessed from a central court paved with opus spicatum. In the back wall of the court is a large, semicircular wall-niche. Two travertine consoles must have supported columns and entablature. On either side of the corridors are rows of three rooms. Above the doors to the rooms are small, rectangular windows. In the corner of some of the rooms, in the back wall, is a small L-shaped slot. The function is unknown. High up in the back wall of many rooms is a splayed slit window. In the side walls of some rooms are small, square windows, set even higher.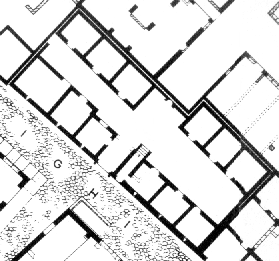 Plan of the building. After SO I.