The Trapezoidal Building was built in the Hadrianic period (c. 128-130 AD; opus latericium and reticulatum). Outside the building, to the right of the entrance, is a large pit. The building has a wide entrance with a travertine threshold at the north side, leading to a wide corridor or courtyard, without a roof. This area was paved with basalt blocks. On either side is a large, covered room. In the north-east corner is a shop. Originally there were two doors in the centre of the south wall. These were later blocked by a staircase, that was set against the south facade. In the building are two troughs.
This was a stable, related to the hotel in the House of the Painted Vaults. The guests who stayed in the hotel left their horses and wagons here. On the first floor there will have been accomodation for their slaves.The pit outside the building was a manure pit.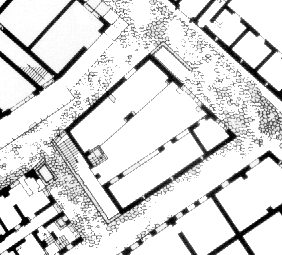 Plan of the building. After SO I.