The House of the Yellow Walls is a Hadrianic medianum-apartment, forming part of the Garden Houses, facing the inner garden, and back to back with the Casa del Graffito (III,IX,21). The building is entered from the south through a door in front of a tripartite entrance of the inner garden. Next to vestibule 1, covered by a barrel vault, is an inner staircase, 2. Medianum 3 is flanked by two representative rooms, 7 and 8. The west wall of these three rooms is pierced by many windows. Room 7 is flanked by an annex, connected through a door and a wide window. To the east of the medianum are two small rooms, 4 and 5. Some reinforcing piers were added later in rooms 3, 6 and 7, possibly after an earthquake.
In rooms 4, 5 and 6 are paintings from the second half of the second century. Architectural motifs, small, impressionistic landscapes, and a head of Oceanus were painted on a yellow background. In rooms 7 and 8 are paintings from the Severan period. Again we find architectural motifs, but the colour scheme is totally different. In room 8 are also depictions of a maenad, a Silenus, and of Hercules and Achelous, the chief of all river deities. In room 4 is a painting belonging to the Linear Style, from the third century. Aediculae frame animals and vegetative motifs. In room 8 are paintings imitating marble revetment, from the late third or fourth century.
All rooms have black-and-white mosaics, from the Hadrianic period. Those in rooms 1, 3, 4, 5 and 6 are very simple. Those in rooms 7 and 8 are quite elaborate, with geometric and vegetative motifs. The one in room 7 has a central panel that is slightly off-center, suggesting that two couches were standing here, in other words that this was a dining-room. The annex 6 may have been a kitchen and service area. Rooms 4 and 5 may have been bedrooms.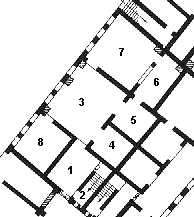 Plan of the house.
After SO I.