This building consists of shops along Via della Caupona and rooms on three sides of a long, rectangular courtyard (16). The street and the courtyard are connected by an entrance corridor (5) flanked by a staircase (4). In the courtyard is a large basin. The west part of the building was erected c. 150 AD, the east half (hatched) a few years later. The masonry is opus mixtum, in the west half consisting of reticulate framed by bricks, in the east half of reticulate framed by opus vittatum. The same masonry was used for the facade, which is unusual: in this period facades are usually of brick only.
It is not clear for what purpose the ground floor was used. Perhaps the curious nymphaeum-like structure in room 12 provides a clue. It is a free standing structure in the rear part of the room. It consists of a podium with a small wall on the back part. In this wall are holes for water-pipes. In the podium is a hole running from the top of the podium to the front, diagonally downwards. The room does not have any doors. In front of the south wall is a low wall, creating a narrow compartment. In the east wall is a window, in the south wall a wide opening, perhaps also a window. It seems that the entire room was flooded.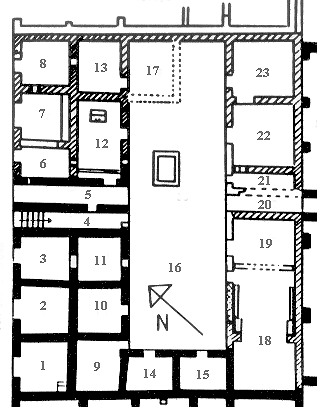 Plan of the building. Van Dalen 1991, fig. 3.