To the west of the Terme del Foro are two old houses (domus). The southernmost has been called House of the Mosaic Niche. It was built c. 50 BC (opus reticulatum and tufa stones). Modifications have been dated to the late second and fourth century AD.
The building was entered from the Cardo Maximus, through fauces between two shops. In the atrium a new mosaic floor was installed in the fourth century, made of large tesserae. Behind the atrium is a tablinum with wide entrances. In the back of the building is a small courtyard, flanked by a brick porticus on either side. In the left porticus is a staircase. In the courtyard is a marble well-head. Against the back wall, opposite the centre of the main entrance of the building, a pseudo-aedicula was set, perhaps in the second half of the second century. The back and arch of the niche are decorated with shells, and pieces of limestone (painted red) and blue glass-paste. On the outside a vegetative motif was painted. In the niche is a cast of a female statue found on the Cardo in front of the building.
Behind the building may have been a peristylium, that was later occupied by other buildings. Doors in the south-east wall lead to a few large halls. The possibility cannot be excluded that the building was or became a guild-seat.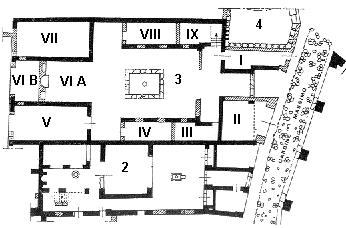 Plan of the two houses. After SO I.