This building has been excavated only partially. It was made during the reign of Hadrian (opus latericium and mixtum). A brick archway at the north end led to Horrea IV,V,12. The building consists of rooms and halls flanking a central passageway. Not much can be said about the east half of the building.
The west half consists of two identical halls. Between the halls is a staircase. Only the northern hall has been fully excavated. In the east wall are three doorways and eight high windows (the latter now also seem to be doorways, because the present floor level of the building is much higher than the ancient level). In the west wall are three doorways, which were later blocked by the Schola del Traiano. A central row of piers supported the ceiling.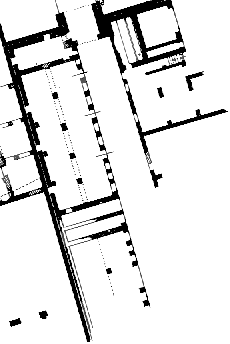 Plan of the building. After SO I.