A cult-room (area c. 6.5 square metres) was erected in the north-east corner of a small courtyard in the north-east part of the House of the Sacellum. The building in its present shape is probably from the period of Commodus or Severan. The masonry of the cult-room has not been dated. The function of the ground floor, consisting of rooms on either side of a corridor, is not known. The cult-room and the courtyard (c. 35 square metres) are rather large in comparison to the remaining rooms on the ground floor (c. 90 square metres), and there is no internal staircase. This suggests that this was a commercial building, rather than a dwelling. The building is not reminiscent of any of Ostia's guild-seats.
The cult-room is opposite the entrance to the courtyard from the vestibule. That the courtyard did not have a roof can be deduced from windows lighting the rooms to the west. The doorway of the cult-room is flanked by engaged columns and has a tympanum. Around the entrance the bricks were originally painted red, the mortar white. The cult-room is divided into two parts, the result of differing ceilings. In the rear corners are two low, masonry bases. In the barrel vault of the rear part, a little above the lateral walls and on either side, are three small plastered depressions. Busts may have been painted here. In the back wall of the rear part is a small wall niche, perhaps for a lamp. The resemblance of this cult-room to Sacello III,II,11 (from the period of Antoninus Pius or somewhat later) may be noted.
Underneath the remains of the collapsed ceiling were found: a terracotta statue of an enthroned female deity, perhaps Fortuna, partly gilded (Trajanic or Hadrianic); two bacchic herms; a female head; a pineapple; a male head (from the early fourth or the first half of the fifth century AD). The statue was probably placed between the two bases.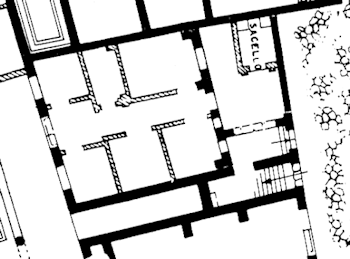 Plan of the building.
After SO I.