The Square of Porta Marina (44 x 39.5 m.) is located just outside this city gate, to the east of the Decumanus and directly to the south of the city wall. A triple entrance is on the Decumanus. The central passage is decorated with two columns. On three sides the square is surrounded by a colonnade with a floor of white marble (some missing columns have today been replaced by cypresses). In the centre of the perimetral side walls are small rectangular rooms. In the centre of the back wall is a large room with a slightly curved back wall. The floor is decorated with polychrome marble. Secondary reinforcing piers in the corners supported a cross-vault.
The walls are in Hadrianic opus mixtum. The area may have had a religious purpose. A masonry structure on the back part of the square may have been an altar.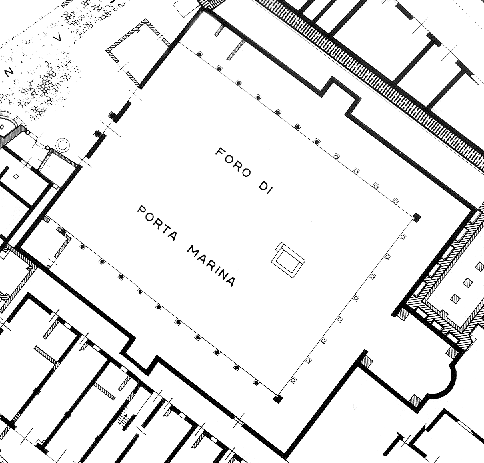 Plan of the square. After SO I.