The Horrea of Artemis is a large store building, with an average width of 30 meters. It is situated behind the Porticus of the Triumphal Arches, i.e. the Arch of Caracalla, that was built between the porticus and the theatre. The porticus is in front of a row of shops, and has been dated to the reign of Commodus.
In the south-east corner of the courtyard of the store building the remains were found of the peristylium of a late-republican domus. The present building has been dated to the Trajanic period (opus mixtum). In the Severan period and later some modifications took place in the north-west part and on the south side, where an apse was added.
The building consists of a courtyard without porticus, with rooms to the west, east and south. It was entered from the Decumanus through an entrance corridor flanked by shops. Here the level is c. 1 meter higher than the Decumanus. The threshold of the entrance to the courtyard is 2.30 wide and framed by brick pilasters. It has pivot holes for doors opening inwards. To the east is a narrow door, c. 1.20 wide, with a smooth marble threshold with two pivot holes.
The average width of the doors of the rooms around the courtyard is 1.75. A door in the east wall leads to a narrow alley (c. 2 meters wide) between the building and the Horrea di Hortensius (V,XII,1). Brick buttresses (0.60 x 0.60) were set against the back wall of the rooms in the south-east part. There are no remains of staircases. In the courtyard is a large underground cistern.
The building was named after a fragment of a wall-painting with a depiction of Artemis-Diana (the precise place of discovery has not been published yet). It has been dated to the late second or early third century. It shows three deities in a row, two full standing figures and one bust, all turned slightly towards the left. The juxtaposition and the dominating presence of the deities suggest, that the painting comes from a shrine. The first figure is male, largely naked, having in his left hand a slightly curved stick of which the upper part is missing, while his right arm is lost, as is his head. To his left is a low tree, to his right an animal, according to R. Calza and Helbig a panther. They therefore identify the figure as Dionysus. The second and third figure are in a separate compartment. To the left is a hunting Diana, to the reight a veiled, female bust. It has been suggested that this is Aurora (R. Calza), or Terra Mater (Helbig). Below the deities is a garden scene.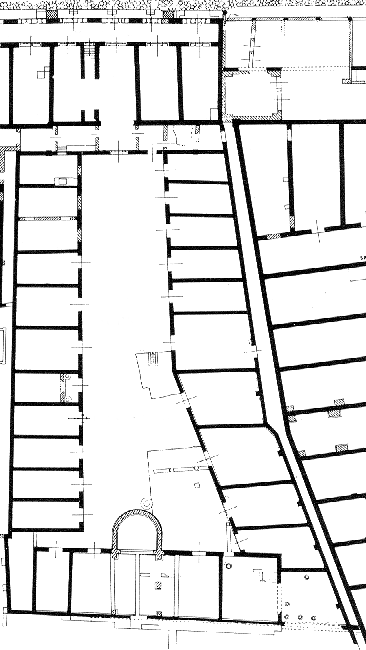 Plan of the buildings. After SO I.