Tomb N
Tomb N is the most important and interesting tomb of the group. It was also the tomb were
the escavation of these 'channeltombs' started in 1925.
One enters tomb N from tomb M by a large portico. The portico, mentioned in the inscription near the entrance of tomb I, is probably the same. In that case, tomb N was meant for Lucius Genucius Epaphroditus and Maria Deutera with their descendants.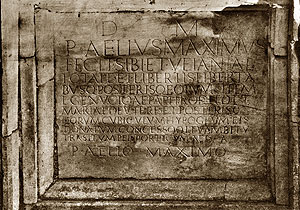 D(IS) M(anibus)
P(ublius) AELIVS MAXIMVS
FECIT SIBI ET VEIANIA
IOTAPE ET LIBERTIS LIBERTA
BVSQ(ue) POSTERISQ(ue) EORVM ITEM
L(ucio) GENVCIO AEPAPHRODITO ET
MARIAE DEVTERE ET POSTERISQ(ue)
EORVM CVBICVLVM HYPOGEVM EIS
DONATVM CONCESSOQ(ue) ITV AMBITV
TRASITVM PER PORTICVM AEIS A
P(ublio) AELIO MAXIMO