The entrance of the excavation area is located on the south side (Ostia).
We walk through the gate and are standing on the remains of the former busy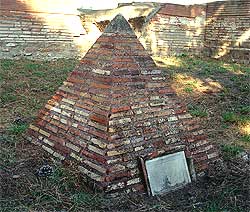 main-street, the Via Severiana.
Immediately we notice tomb 1 on our left hand.
A small pyramid-shaped monument
built of brick in which the ash urn was placed.
The detached tomb stands in the middle
of the open area between the Via Severiana
and tomb 2, 3 and 4.
On the monument there is an inscription on
a small marble plate which says that this
monument was dedicated to Caius Annaeus
Atticus, who passed away when he was 37
years of age; that he was originally coming
from Poitiers, a town in the province of Aquitania (France). The text also tells us
that the monument has been erected by his house-mates (or slaves).
D . M
C . ANNAEI . ATTICI . PICT
EX . AQVITANICA . PRO . DEF .
ANN . XXXVII . DOMESTICI .
EIVS . PONENDVM . CVRARVNT .