TOMB 20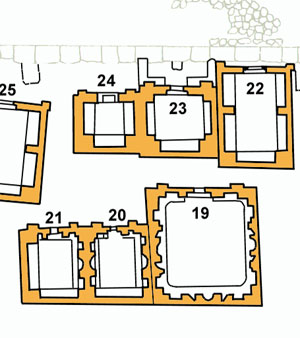 Tomb 20 and 21 form a couple. The facades of both graves are unique. They are decorated
with three brick semi-columns on a marble foot and marble semi-capitals.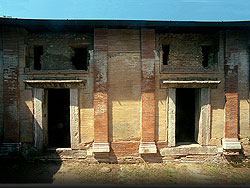 Like tomb 19, also tomb 20 has lost its view on the Via Severiana after the erection of tomb 24. The inscription above the entrance has disappeared as well.
From the once rich decoration in the burial chamber little has been left over. However, fragments of a mosaic floor have been found, below which four burial places were located.
On a covering plate of a sarcophagus the following epigraph was written:
TV QVI LEGES . SPONDEO [..] AMICE . QVOT . ME .
DISCVMBENTE BIBENTE VIDES
D M
HOC . QVANDIV . VIXI [..] TIMA . FECI . IDEM .
ET . TIBI . DII FACIANT

Thou, friend (6 characters are missing) who shall read this, while I am lying down and who will see this during his life,
I have done this when I was alive (12 characters are missing) and may the gods do this also to you.