TOMB 26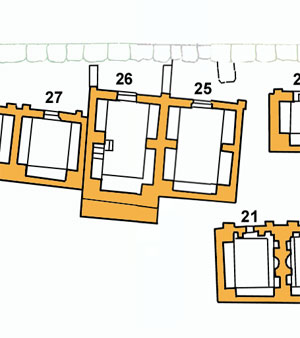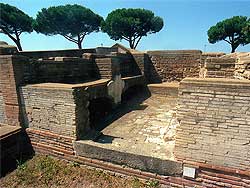 Tomb 26 lies on the same axis as 27 and 28. Together they form one block with a view on the Via Severiana.
Between these tombs and the main-street
we notice traces of a colonnade.
On the backside of tomb 26 a relief
has been attached in later time
(see map).



The burial chamber was organised for inhumation with two rows
of arcosolia in the side-walls.
The back-wall is occupied by a stone bench which was once probably
covered with marble. It served most likely as a base for a sarcophagus.
In the middle of the right side there was a staircase to an upper floor.
We can still see the first two steps and the left turn of the staircase
to the level of the upper row of niches.
The floor was covered by marble plates. One of them was equipped with a bronze ring which made it possible to enter the graves beneath the floor.