Tomb 53 is also a tomb a cassone.
This small grave has, however, a brick wall with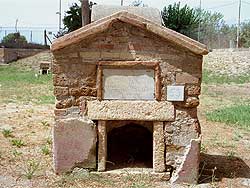 a triangle upper part on the front side.
On this wall, above a small entrance,
a marble slab has been attached
with the following inscription:
D . M
M . VALERIO . FORTV
NATO . SER . IANVARIA
MATER . FIL . PIE . SVO . FE
CIT . SIBI . S . VIX . ANNIS . III
MES . VIII . D . XXV . IN . F . P . X . A . P . X
Tomb 53 was, according to the text, erected for her devout son
Marcus Valerius Fortunatus by his mother Sergia Ianuaria, but also
for herself and hers. The son died in the age of three years,
eight months and twentyfive days.
The measurements of the grave are 10 x 10 feet.
Tomb 53 dates from the time of Hadrian/Antoninus Pius.