Tomb 66 is a tomb a cassone. The little grave has been built against the back-wall of tomb 78.
On the side turned towards the sea was a marble slab of 18 x 27 centimetres with the following inscription written in irregular characters:

D M
CAECILIA MAXIMA
SOCRATE FILIO ET
NEPOTI FECIT . EX
SVBSTANTIA AVRE
LIAES
The text says that Caecilia Maxima had built the tomb for Socrates,
son and grandson, paid from the fortune of Aurelia.
Probably Socrates was the son of Caecilia Maxima and the grandson
of Aurelia.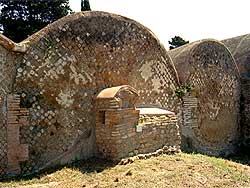 Tomb 66 dates back from the time of
Hadrian/Antoninus Pius.