Tomb 68, also a tomb a cassone, lies to the northwest of tomb 85. The small grave, not visible today, has a triangle frontplate of 25 x 32 centimetres with the following inscription:
D . M
L . AEMILIVS . DONATVS
ET . AEMIA . MARIA .
L . AEMILIO . DONATO
PATRI . PIENTISSIMO
FECERVNT .
According to this inscription from the time of Hadrian, the tomb was built
by Lucius Aemilius Donatus and Aemi[li]a Maria
for their very pious father, Lucius Aemilius Donatus.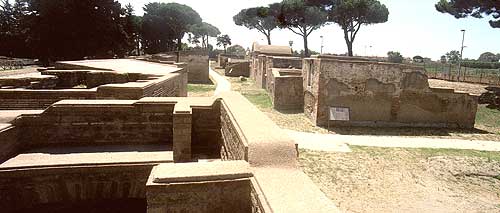 The first tomb on the right side is tomb 85 seen from the north.