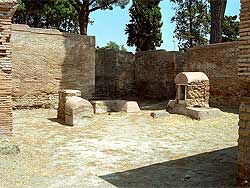 Tomb 74 is located in the open area in front of tomb 75
and 76. The grave has an undefinable shape and is supplied with an aedicula.
Tomb 74 is oriented towards the side-wall of tomb 72.
The grave bears the following inscription on a marble slab
of 22 x 24 centimetres:
D M
S A T Y R I F E C I T
I A S O N P A T E R
Q . V . M . VIII . D . VIII
H . III
The grave was erected by Iason for his son Satyrus who died in the age
of eight months, eight days and three hours.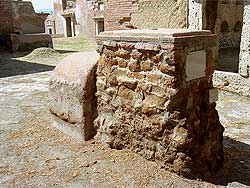 Tomb 74 dates back to the time of Hadrian - Antonius Pius.