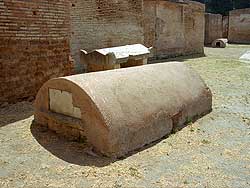 Tomb 82 is a semicircular tomb a cassone.
The grave, measuring 2,47 x 1,30 mtrs, runs parallel with the main street.
The view on the Via Severiana is blocked by tomb 34.
The little tomb has an inscription on a marble slab
of 28 x 45 cms.:
D . M
VETRONIAE . P . LIB .
NAPHAME . CONIV
BENE MERENTI
P VETRONIVS . VICTOR
FECI.T
SIBI . ET . SVIS POSTERISQ . EORVM
The tomb was built by Publius Vetronius Victor for Vetronia Naphame, freedwoman of Publius, his very devoted wife, for himself, his family and their heirs.

Here too, it must have been a way of saying according to custom. The grave was obviously too small for so many people.
The owner of tomb 82 has tried to imitate the burial chamber of a large tomb by attaching
an architrave of a door. However, a door was never attached..