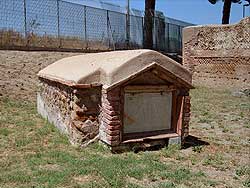 Between tomb 97 and tomb 100 lies another tomb a cassone, tomb 99. The little grave has an aedicula facing
the street. Inside the aedicula we see an inscription on
a marble slab of 34 x 37 cms:
DIIS . MANIB
PETRONIAE . STOLIDIS
FILLIAE . PIISSIMAE
C . PETRONIVS . ANDRONICVS
ET . PETRONIA . MARITIMA
PARENTES . FECERVNT
VIXIT . ANN . XX . D . XXII . H . IIII
Caius Petronius Andronicus and Petronia Maritima, her parents,
have made <this monument> for Petronia Stolis,
their beloved daughter. She lived twenty years, twenty-two days and four hours.
In front of the grave is the base of a table meant for funeral purposes.
Tomb 99 dates from the time of Antoninus Pius.