This tiny bath (c. 24 x 16 metres, area c. 385 square metres) was built in late antiquity in the south-west corner of the Horrea dei Mensores (I,XIX,4). It is 0.45-0.80 m. above the present street level. It was accessible only from the store building to the east. A small staircase leads to frigidarium E in the south part, with three semicircular basins. To the north are the heated rooms. At the north end is caldarium A, also with three basins. Another small staircase leads to the eastern basin. Behind the caldarium is a furnace (H). Remains of plaster can be seen on most of the walls. In the basins are remains of marble revetment.
Heres has dated the baths to c. 450-500 AD (opus latericium), with additions from c. 490-550 AD (opus vittatum). That makes this one of the latest buildings in Ostia.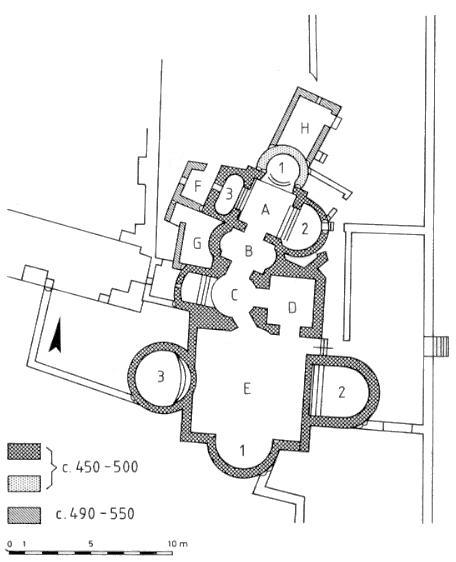 Plan of the baths. From Heres 1982, fig. 78.