The House of the Infant Hercules has been dated to the reign of Hadrian (opus latericium). The east half, on Via della Fontana, consists of five shops (II,VI,4). The southernmost shop has a door in the west wall, leading to a shop in the west half. In the shop to the north a large basin was found. The shops have floors of opus spicatum. The west half, on Via delle Corporazioni, consists of the shop mentioned above, and of the House of the Infant Hercules (II,VI,3), a medianum apartment.
In the apartment the following wall-paintings were found:
The seated infant Hercules, strangling the snakes
A seated man and woman; the man is naked, with helmet and shield (Mars and Venus?)
A seated and a standing woman; the woman to the left is naked, with two javelins, the woman to the right offers an apple (Atalante receiving a gift from Aphrodite?)
A seated figure and a standing naked man, with shield (Mars and Rea Silvia?)
Among the finds from the apartment (excavated in 1913) were two groups of coins (110 and 896), from the fourth and fifth century. The latest coins are from the years 423-425 AD.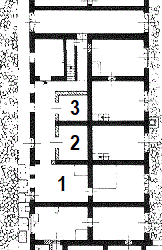 Plan of the house.
After SO I.