The Baths of the Trinacria were named after a depiction in mosaic of the symbol of Sicily: a female head with three legs (triskeles). The baths were erected during the reign of Hadrian, to the east of the Via del Serapide. The suspensurae were restored during the reign of Commodus. The baths could be entered trough a corridor from Via della Foce (1), through a vestibule with a bench set against the south wall (2), and through wide openings from Via del Serapide. The latter led to a courtyard, that also served as frigidarium (3). To the east of the frigidarium is a large basin with niches (4). In the corridor to the south of the frigidarium (5) is the mosaic after which the building was named.
Further to the south are the heated rooms (6-9). In exedra 6 is a mosaic with marine motifs: a Nereid, dolphins, etcetera. At the south end of room 7 the mosaic contains the text:
It has been explained as an ironic comment on the offices, stationes, on the famous Piazzale delle Corporazioni (II,VII,4). Kleijwegt suggests that it was the unofficial nickname of a iuventus-type organisation. Panciera draws our attention to the placement of the inscription in front of a bench, and to the fact that it was planned as an element of the mosaic pavement. He suggests that it had a serious purpose, and that the inscription marks a place in the bath where men who offered cunnilingus as an act of prostitution could be found. In room 8 is a mosaic of three athletes, of which only the upper part has been preserved.
Further towards the south are the heating installations (10). There is another furnace in room 11. Waterwheels were operated in the west part of room 3, and at the south end of the building.
On the north part of Via della Foce still lies a large part of the collapsed north facade of the building.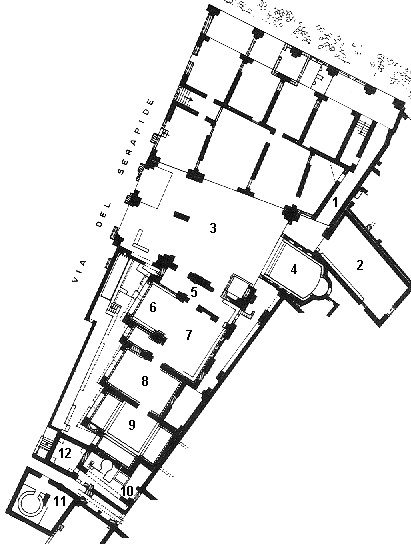 Plan of the baths. After SO I.