Back to menu | Back to clickable plan
Regio IV - Insula I - Tempio di Bellona (IV,I,4)
The Temple of Bellona is situated to the east of the Campus of the Magna Mater. It is to the east of an open space with a brick porticus on the north-east side. This space could be reached from the street along a staircase (the street is at a higher level). The temple was built in the late-Hadrianic period (opus mixtum and latericium). It is fairly small (7.00 x 5.75). In front of the entrance, to the right, is a well. Three treads lead to the pronaos, with two brick columns in the entrance. On the floor is a white mosaic. In the entrance to the cella is a marble threshold with pivot-holes, in the back is a low podium (h. 0.70). On the floor is a simple black-and-white mosaic. The walls were painted.



Plan of the east part of the temple-complex of the Magna Mater.
From Vermaseren 1977, fig. 24.

The dedicatory inscription was found on the steps of the temple:

A(ulus) LIVIVS PROCVLVS P(ublius) LVCILIVS
GAMALA F(ilius) IIVIR PRAEF(ectus) CAESAR(is)
LOCVM QVOD AEDES BELLONAE FIERET
IMPENSA LICTORVM ET SERVORUM PVBLICORVM
QVI IN CORPORE SVNT ADSIGNAVERVNT
D(ecreto) D(ecurionum)
CVR(averunt)
M(arco) NAEVIO FRVCTO ET [[---]]

The involvement of duoviri and the city council shows that the temple was on public ground. Later the temple was improved. The following inscription is on the reverse side of the previous one:

NVMINI BELLONAE SACR(um)
DEC(reto) DEC(urionum) PVBLICE LOCO ADSIGNAT(o)
LICTORES VIATOR(es) ET HONORE VSI ET
LIBERTI COLON(iae) ET SERV(i) PVBLICI CORPOR(ati)
OPERE AMPLIATO
SVA PECVNIA RESTITVERVNT

Bellona was originally a goddess of war. Later she was associated with Cybele. She was especially popular amongst the lower classes, slaves and freed slaves. In the temple a relief of two pairs of feet was found, going in opposite directions. It may be a votive offering by a soldier who had departed for war and returned safely.
---
Photographs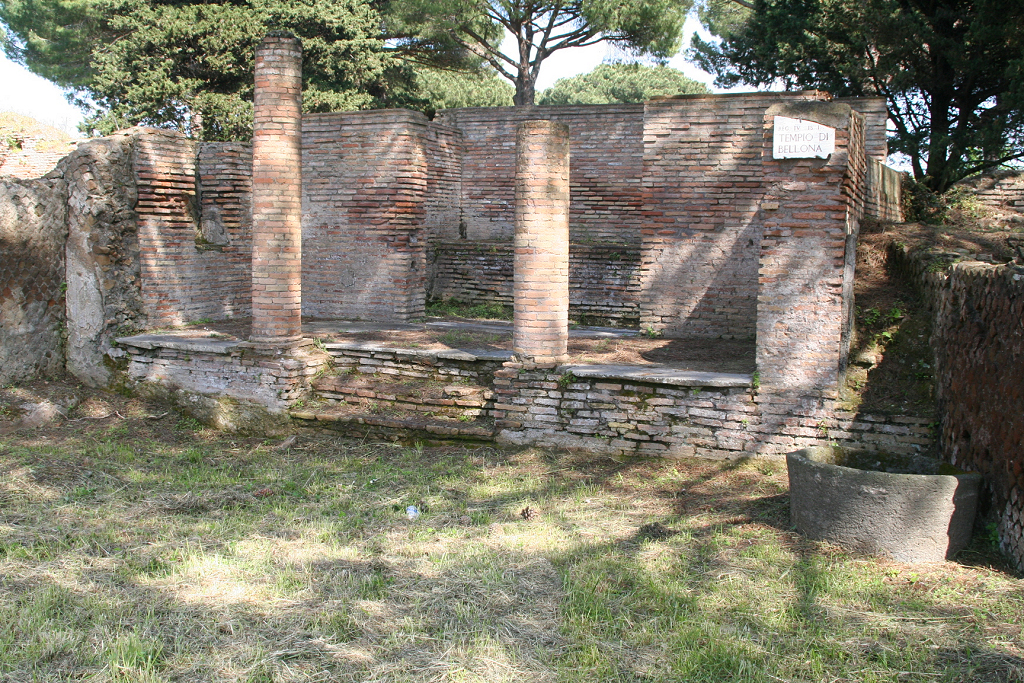 The temple seen from the west. Note the well-head to the right, in the shade.
Photograph: Jan Theo Bakker.
---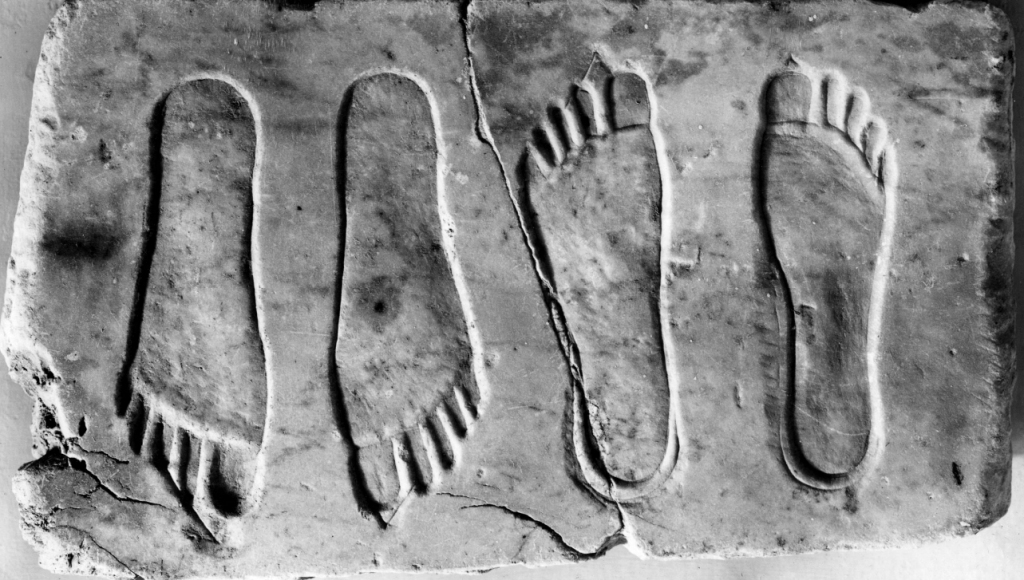 The votive relief with two pairs of feet.
From Calza - Floriani Squarciapino 1962, fig. 7.
---
[jthb - 8-Feb-2004]