The Byzantine Baths were installed in what may have been a peristylium of the House of Jupiter the Thunderer to the east. The building was erected c. 390-425 AD (opus latericium and vittatum).
The main entrance was on Via del Tempio Rotondo. A long entrance corridor (A) leads to a large frigidarium (B). In the centre of the frigidarium are bases for six columns. On the floor is a mosaic of large tesserae, yellow, pink and grey, with a few geometric motifs. At the south-west end is a geometric black-and-white mosaic, repaired with marble slabs in antiquity. There are three cold basins with apses, two at the south-west side (1, 2), and a very deep one at the south-east side (3). In the lateral walls of the latter basin, directly behind the entrance, are shallow niches. In the apse are three windows. A staircase was set against the outer north-east wall.
To the south-west are the heated rooms, with many apses (C-K). These rooms have marble floors. The basins have marble revetment, on the other walls are remains of plaster. Some have recognized two wings in the heated area, one for men and one for women. Service corridor M was illuminated by three loophole windows in the south-east wall. In room P are also three loophole windows. To the south-east is the palaestra (Q), with a huge cistern (R).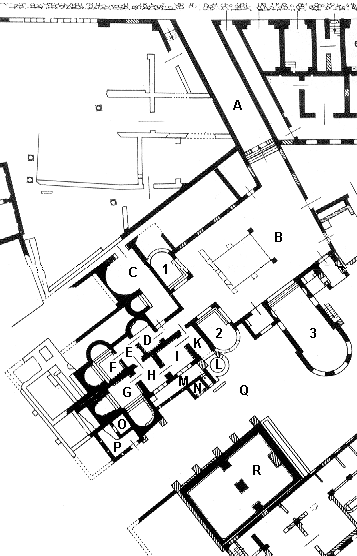 Plan of the baths. After SO I.