This tiny, probably privately owned, store building is in an isolated position. It was entered from the south. In front of the entrance is a large, Hadrianic brick archway, belonging to a different building however. In the east wall of the central east room is a door leading to the Cortile del Dioniso. The opus reticulatum has been dated to the early first century AD.
There are six rooms, three on either side of a wide central corridor (width 4.80). The doors of the rooms are 2.34 wide. A few thresholds have been preserved, with two pivot holes and bolt holes. One was later changed into a shop-threshold. Three buttresses composed of very large travertine blocks were set against the north wall. The thickness of the walls is 0.60, enough to carry several upper floors, but there are no remains of staircases.
In the south-east room the Mitreo delle Sette Porte was installed.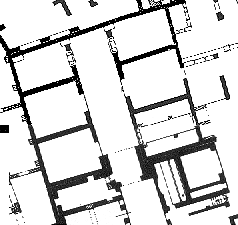 Plan of the building. After SO I.