This is a Hadrianic building (opus mixtum), flanking a paved dead-end street (Vicolo del Dioniso), leading from the western Decumanus to the south. Below the building the remains of the atrium of a republican domus were found. Shops face the Decumanus and the streets. In the south-west corner, to the south of a staircase, are halls.
The room to the east of the entrance was a bar. A door in the back wall leads to another shop. Two holes in the jambs of this door show that the door could be barred from the inside of the bar. Two bar counters can be seen on the plan in Scavi di Ostia I. Of the one in the north corner, next to the main entrance, only marks on the east wall can be seen today. The second one, in the south part of the room, has disappeared.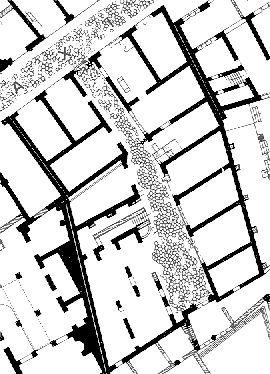 Plan of the building.
After SO I.