To the south of building IV,V,7 and the Vicolo del Dioniso is the so-called Cortile del Dioniso, named after a mosaic in building IV,V,9. The Courtyard of Dionysus is shown on the plan to the right.
Below building IV,V,7 the atrium of a republican domus was found. One of the rooms near the atrium had a polychrome, marble floor, the remains of which were set against the west wall of the courtyard by the excavators. The peristylium of this house later became the courtyard. Brick and travertine columns in the north and south part of the courtyard belong to the original domus. Later a large, rectangular basin was set between the columns in the back part.
The domus had building phases from the second and the first half of the first century BC. The marble floor may be from the Augustan period.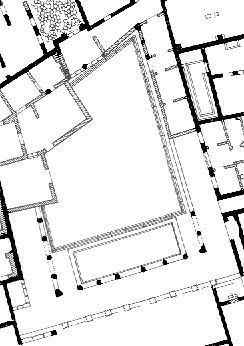 Plan of the Courtyard of Dionysus.
After SO I.