The northern end of the Caseggiato della Cisterna (I,XII,4) was in late antiquity changed into an exedra. It was erected on top of a bakery. Rooms with floors of basalt blocks, belonging to the bakery, were found in the late 1990's. The exedra consists of a large semicircular wall (opus vittatum) with a rectangular wall-niche in the centre. The wall is followed by a colonnade.
The exedra was built in the middle of the fourth century AD. It was meant as decoration of the Decumanus Maximus, but also blocked the Semita dei Cippi, indicating that in this period fewer or no goods were taken from the Tiber to the south part of the city.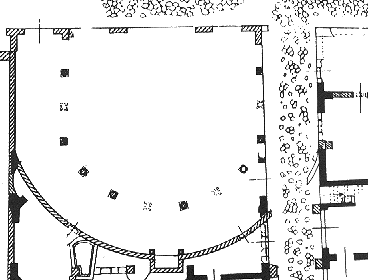 Plan of the exedra. After SO I.