This seems to have been an industrial building, like buildings II,VIII,7 and 9. It is to the west of the area in front of the Four Small Temples (II,VIII,2). It was excavated in the years 1885-1886 by Lanciani. A small basin is found in a little room in the north-west part. There was a long basin against the west wall (10.87 x 1.20). The building is probably Hadrianic. It has been suggested that it was a fulling mill.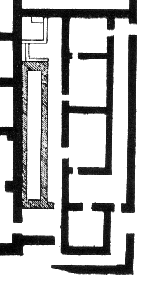 Plan of the building.
From Paschetto 1912, fig. 88.