On the south side of Via del Tempio Rotondo is an apartment that is reminiscent of the medianum apartments. It was built during the reign of Alexander Severus (222-235 AD; opus latericium). It seems to have been destroyed by a fire at the end of the fourth century, witness the find of coins, melted together in the shape of a wooden box.
The plan reflects the location, at a street corner. Six shops face the street. In the north side and at the south-east corner are staircases flanked by a corridor. A long corridor (1) at the west end (w. 1.86) leads to the living quarters. At the south end of the corridor is a blocked doorway, leading to what seems to have been a courtyard.
Room 2 is a corridor or medianum, with three windows (w. 1.50) in the south facade. The two largest rooms, with wide entrances, are 4 and 8. Room 8 has a (blocked) window in the west wall. Room 9 may have been a kitchen with latrine. There are remains of plaster in rooms 4, 5 and 9, and in these same rooms black and white mosaic tesserae are scattered over the floor. To the south-east of the apartment is a third, external staircase.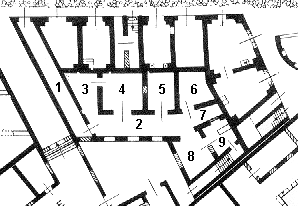 Plan of the building. After SO I.