The House of the Well was installed in a medianum apartment from the Hadrianic period (opus mixtum), possibly in the second half of the third century. Windows in the west facade provided light to the apartment and the later domus. The entrance, in the centre of the west side, is flanked by two brick semicolumns. The floor of vestibule 5 (the original medianum) is decorated with a black-and-white mosaic. A door with a marble threshold leads to room 4 (the exedra of the medianum apartment).
Along two treads hall 1 is reached. This had been a shop, that seems to have been connected with the apartment. The wide entrance from the street was blocked. A staircase leading to the first floor, set against the east wall, was demolished. The doorway between rooms 4 and 1 was widened, and decorated with two marble columns. Rooms 4 and 1 were adorned with a floor of opus sectile. In the centre of the floor of room 4 is a circular space, where a statue or ornamental basin must have been placed. The lower part of the walls of rooms 4 and 1 was decorated with marble, the upper part with paintings.
In the north-east corner of room 1 is a masonry podium. The upper part is smaller, and lined with marble. On top may have been a miniature temple (aedicula), a private shrine. In the house a small marble bust of the child Caracalla was found. A staircase in the south-east corner of the same room leads to a large cellar below room 2 and part of room 4, that gave the building its name. It may have been a cistern for collecting rain-water (there are some terracotta pipes in the ceiling), but a stone table or shelf at the far end may also indicate that food was stored here.
In the other rooms are remains of mosaics and paintings. In room 10 was a latrine.
In the north-east corner of room 1 is a blocked doorway, that led to building V,III,5. The two buildings were also connected by a (blocked) doorway in the north-east corner of room 9, near a rounded wall, facilitating the passage from one building to the other. Another (blocked) doorway at the south end of corridor 11 led to apartment V,III,4.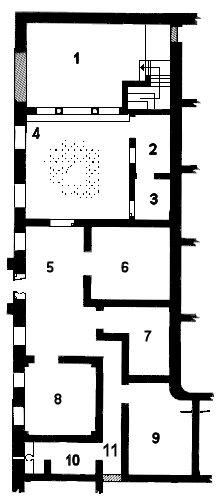 Plan of the house.
From Hermansen 1982, fig. 4.