This unit is in the south-west corner of block V,V. It was built during the reign of Antoninus Pius. Modifications and the floor mosaics have been dated to the first half of the third century. Behind a porticus are two shops and a staircase. In the corner shop is a further staircase.
On the floor of the corner shop is a black-and-white floor mosaic with a marine scene: animals, a man fishing in a boat, a human figure holding a rectangular object, a boy making a gesture with his hands, and the text:
( = invidiosus, "jealous one"). For more information about this theme see the Taberne dei Pescivendoli (IV,V,1). In the centre of the mosaic is a marble basin, a later addition. Both the theme of the mosaic and the basin indicate that fish was sold here. Wooden counters may have been placed on black rectangles at the west and north end of the mosaic.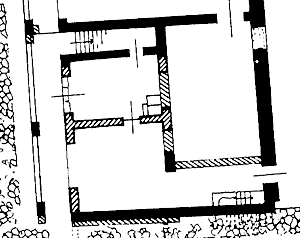 Plan of the shops.
After SO I.