The House of the Stucco Capitals was a domus built in the second century BC. Today only the peristylium can be seen. Most of the building was replaced by the Sede degli Augustali (V,VII,1-2) to the north. An apse from the late third century also invaded the space of the peristylium.
The main entrance to the remaining part of the domus is from the south, through what was once the tablinum. In the peristylium was a porticus of tufa columns, except for the corners, where travertine columns are found. Most of the columns were later replaced by brick piers. The columns were decorated with stucco imitating flutings.
The peristylium could also be reached through a corridor to the west. Doors in the south wall of this corridor lead to some rooms in the south-west corner of the block: shops and backrooms. They were built in the Antonine or Severan period.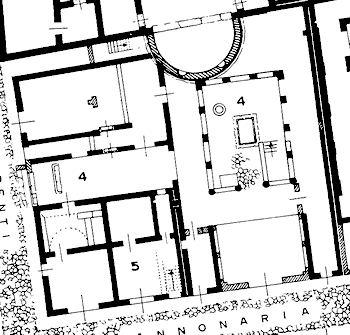 Plan of the building. After SO I.